Celebrating Black Excellence At Benevis
What We Value
Benevis is no stranger to supporting Historically Black Colleges and Universities, donating to initiatives benefiting Black students, and hiring Black dentists. Our value of diversity is reflected in the 75 dentists that lead our offices across the nation. Since the beginning, Benevis has been dedicated to embracing not only the diversity of our patients, but also the diversity of our dentists.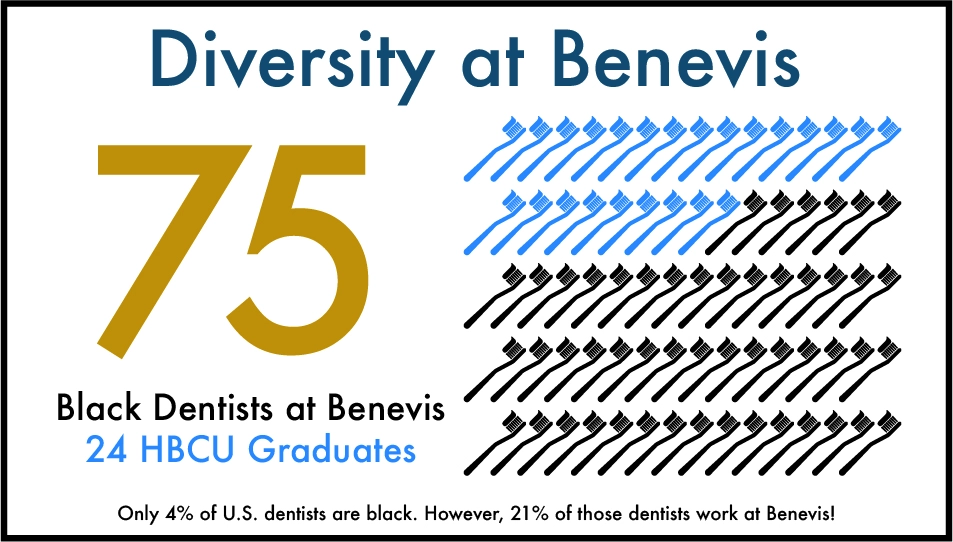 Diversity by The Numbers
Among U.S. dentists, only 4% are Black. However, 21% of those dentists  choose to work at Benevis. Leading the way of those Black dentists at  Benevis are Black women who make up 71%. When Black dentists are  looking for a dental practice to work for, they are 450% more likely to choose to practice with Benevis. Our Black dentists come from many dental schools  across the nation, but nearly half of them graduated from Howard University  or Meharry Medical College which are both HBCUs.  
21% of Black dentists work at Benevis 

71% of Black dentists at Benevis are women 

Nearly half of Benevis' Black dentists graduated from an HBCU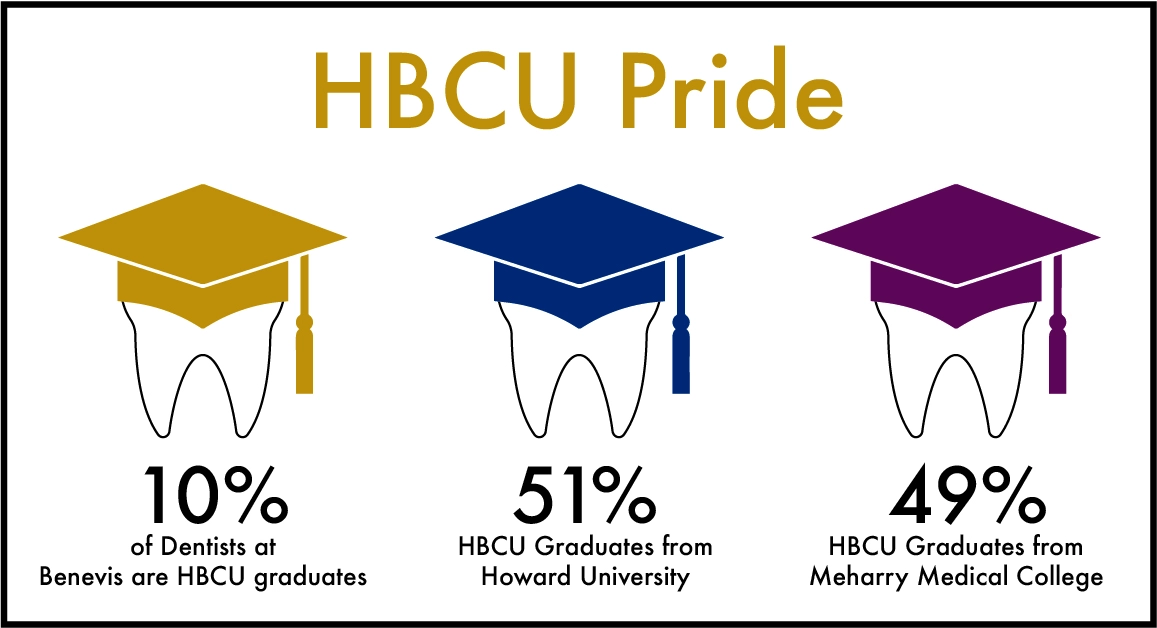 "HBCUs are important and integral. We can't  afford to lose them. They are the ones who  are pumping out our Black dentists, doctors,  and professionals. Those networks and  cultures are strong and important."
 –Dr. Chelesa Phillips, Pine Dentistry
Our Commitment to HBCUS 
Throughout the years, Benevis has supported many initiatives directly  benefiting the education of Black students. We have supported Meharry  School of Dentistry and their mission trip to Jamaica where students and  faculty members were able to provide dental care and education to over  1,000 patients. Benevis has also donated thousands of dollars for  scholarships over the years. In particular, the Congressional Black Caucus  Foundation's General Education Scholarship Fund.  
Supporting HBCUs and Black dentists are a part of Benevis' foundation. The  diversity of our dentists mirrors the diversity of our patients. The support of  HBCUs ensures the continuation of diversity within our organization.